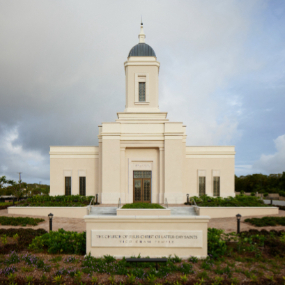 "Organize yourselves; prepare every needful thing; and establish a house, even a house of prayer, a house of fasting, a house of faith, a house of learning, a house of glory, a house of order, a house of God." D & C 88:119
From the beginning of time the Lord has always commanded his people to build temples. In both ancient and modern times blessings of the temple have come to the covenant people of the Lord through sacrifice. These edifices are a unique place of focus where people can especially feel close to God and experience His presence. Designed to focus attention on God, a temple of the Church of Jesus Christ of Latter-day Saints is a building dedicated to being a House of the Lord and considered by church members to be the most sacred structure on earth. At the temple members can feel the glory of the Lord and know that they are children of God.
Those who have been baptized and subsequently received their endowment in the temple are eligible for rich and wonderful blessings. The endowment is literally a gift of power from our generous Father in Heaven. Leaving the temple, we are empowered from on high with blessings of the Priesthood. Many times, after feeling God's presence and receiving revelation, the adversary tempts us to worship him. Knowing we can call on our Father in Heaven for strength, we can cast the adversary out of our life and worship the God of glory, knowing temptations will always return, but can always be defeated. Opposition and adversity often come after enlightened decisions have been made, or after moments of revelation and conviction. God has set bounds and limits to the opposing powers of darkness.
When adversity comes again and again and again, fear not for the Lord will fight for you! "We do not come to the temple to hide from or escape the evils of the world. Rather, we come to the temple to conquer the world of evil" encourages David A. Bednar.
Ether in section 12 verse 41 commends us to "seek this Jesus of whom the prophets and apostles have written that the grace of God the Father, and the Lord Jesus Christ, and the Holy Ghost, which beareth record of them, may be and abide in you forever." The ultimate purpose of embracing Christ's teachings is for families to be sealed in the temple, creating an eternal family with welded links of their generations. Elder Dieter F. Uchtdorf warns that "Too often we let ourselves be distracted by the imperfections of our fellow members instead of following the example of our Master."
The story of Adam and Eve is the story of receiving the atonement. "The basis for every temple ordinance and covenant…is the Atonement of Jesus Christ," states our prophet, Russell M. Nelson. All men and women may receive the Holy Ghost, obtain personal revelation, and be endowed in the temple, from which we emerge armed with power, where chains of bondage will fall, and surrounding darkness will clear away. "At the temple the dust of distraction seems to settle out, the fog and the haze seem to lift, and we can 'see' things that we were not able to see before and find a way through our troubles that we had not previously known."—Boyd K. Packer
In the temple, the intersection between heaven and earth, you'll receive all those ordinances which are necessary for you, after you depart this life, to walk back to the presence of Father in Heaven. Here holy work will be performed through selfless service and love, in person and by proxy for those unable to do for themselves, linking families together for eternity. Here you will make covenants, commune with God, seek God's aid, understand God's will, and receive personal revelation, light and knowledge. 
"Let the mountains shout for joy, and all ye valleys cry aloud; and all ye seas and dry lands tell the wonders of your Eternal King! ... Let us, therefore, as a church and a people, and as Latter-day Saints, offer unto the Lord an offering in righteousness; and let us present in his holy temple, when it is finished, a book containing the records of our dead, which shall be worthy of all acceptations." D&C 128: 23&24.
To register online for a tour during the Open House May 4-14 Click HERE.