This past March, Sister Kristin Yee, Second Counselor of Relief Society General Presidency, visited Saints in the Asia North islands of Japan and Micronesia, including Okinawa, Guam, Pohnpei, and Chuuk. 
Her first stop was in Hiroshima where following a visit to the Hiroshima Peace Memorial Museum she gave an instruction to the Relief Society, Young Women, and Primary leaders. She said it was poignant to see the tragedy, and sorrow of war followed by speaking and talking of Christ and His Gospel and the true healing and peace He offers. In her second stop in Okinawa on March 12th she addressed the youth at a special devotional, assuring them that the highest councils of the Church love and pray for them. She assured them that the "Lord is pouring out His spirit upon them to help strengthen them."  
She talked about the new Okinawa temple that would soon open next door to the building they were in. The youth were encouraged to get involved in family history work. "If you are struggling in your lives," she said, "I encourage you to do family history and the Lord will be with you." She also counseled the youth to study the eternal truths in the For the Strength of Youth booklet and it would be an anchor for them in making decisions about their lives. "If you'll make a spiritual effort, more spiritual blessings will be given unto you. The Lord wants you to choose Him. [The For the Strength of Youth booklet] is not a checklist, but a call for a change of heart." 
Following an instruction in Kagoshima, Japan, Sister Yee then traveled to Guam where she spoke at a special Relief Society devotional, focusing her message on the sisters' personal covenants with the Lord. She began by asking three questions: "What are those covenants? How do we receive those covenants? How can we be blessed by our covenants?" In her ensuring remarks, she described how covenants give us the power to repent and the strength to forgive, the power to magnify our callings through the power of the priesthood as we strive to keep those covenants. 
She also emphasized the importance and power of temple work in relation to our covenants, quoting Elder Dale G. Renlund's promise that "When ordinances are performed on behalf of the deceased, God's children on earth are healed." She further promised that blessings that we are seeking for our families and as individuals will come as we allow our covenants to bind us to the Savior. 
She spoke of the importance of using the sacrament ordinance in renewing and maintaining our covenants. After we are baptized and cleansed from our sins, we have an ongoing need for remission of our sins. That ongoing remission comes through repentance and partaking of the sacrament each week. In addition, the need for making time for sincere personal prayer in developing a deep personal relationship with our Father in Heaven was also emphasized.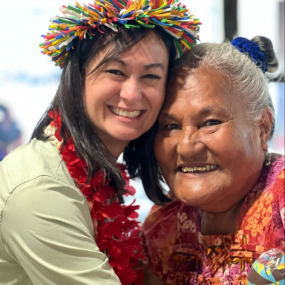 In another devotional on her return to Guam, Sister Yee told the Primary children that President Nelson wanted them to know that he loves them and that every child is needed. She talked about the importance of being baptized and receiving the Holy Ghost. She told the children that the Holy Ghost can help them to know how to love and care for each other by helping and serving those around them. The children shared their testimonies through drawing how they serve someone else. 
From Guam, Sister Yee traveled to the Micronesian Islands of Pohnpei and Chuuk. On Pohnpei, she met with sisters and youth and delivered words of hope and love from President Nelson. Close to 200 youth and YSA attended the devotional. Sister Yee also met with the missionaries and discussed Gathering Israel to their covenant blessings, and encouraged the missionaries in doing the Lord's work. 
On Chuuk, which had been particularly isolated during the Covid Pandemic, she told a small group of Relief Society sisters that they are not forgotten, but are loved and known to the Lord, and are a part of a worldwide sisterhood. Emphasizing the importance of the sisters on Chuuk being known to Him, she stated, "Of all of the places I could have gone, I was sent to Chuuk" One sister was especially touched and commented through her tears how much she appreciated Sister Yee coming to their island, and sharing the prophet's words that the sisters were "loved, necessary, and precious." She expressed that during the pandemic she had not felt precious and felt lonely with many burdens, and forgotten. It meant a lot to her to know that she and the people of the island were loved. That made a big difference for her and she now felt happy.
 
On the smaller island of Romanum, Sister Yee ministered and spoke about how Christ and His Atonement can fill us as no earthly means can. She also talked with a new Relief Society president, about the importance of ministering and caring for one another. The sisters shared their powerful testimonies and desires to go to the House of the Lord.
Among those who accompanied Sister Yee on her Asia North trip were Elder Takashi Wada, Asia North Area President and Elder James R. Rasband, First Counselor in the Asia North Area Presidency.