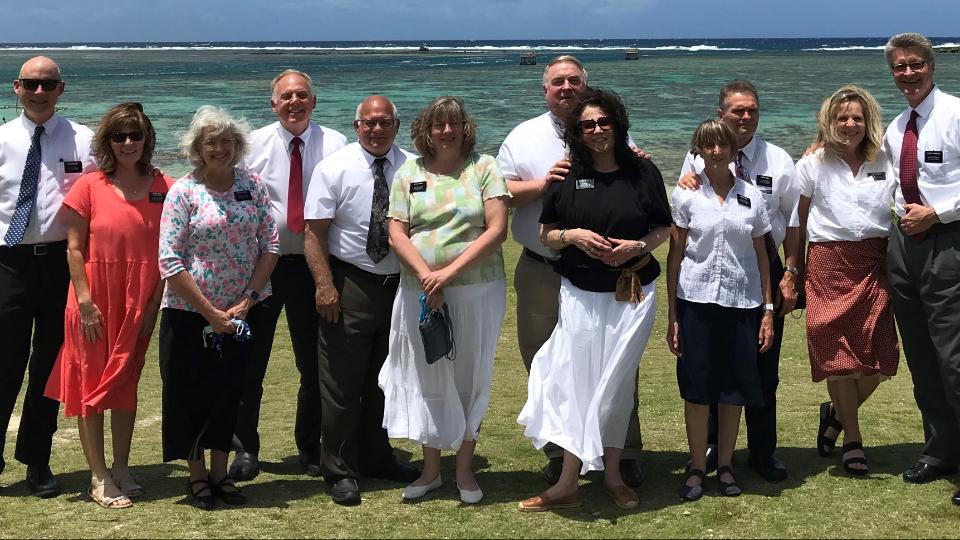 What common characteristic exists between a doctor and homemaker from Tacoma, Washington, a credit union CEO and an elementary school teacher from Hereford, Arizona, a university general counsel and dietician from Inkom, Idaho, a dentist and nurse from Lawrenceville, Virginia, and a mental health clinician and an elementary school teacher from Rexburg, Idaho?  A calling from the Lord!

Other than that, there is another common feature.  All five couples submitted their mission applications and were called to serve in the Asia North Area in the area office and one couple to Fukuoka, Japan during the worst year of the pandemic, but none of them were able to go because Japan's borders were still closed.  In the meantime, all began their missions from home - on time - as assigned.  The earliest couple began last August of 2020 and the most recent began in March of this year.  What is not common about them is their callings.  Their assignments include medical, mental, dental, legal and communication support.

Missionaries serving under these challenging circumstances quickly learn how valuable technology is for their callings and specific assignments.  But doing it from the United States for the Asia North Area adds another challenge – add 16 hours and remember that it is already the next day.  All five couples were coping and making do with the time zone differences, until one day, approval came down authorizing what the young elders and sisters call a "transfer."  In an effort to maximize efficiencies while still optimizing eventual Japanese visa processing, church authorities approved a transfer to Guam for all five couples.  With just a couple of weeks to prepare, all made the long journey in May and arrived safely, warmly greeted by the mission leadership, missionaries, staff and island members.  President and Sister Hicks of the Micronesia Guam Mission stated, "Having senior missionaries from the Asia North Area is a great blessing to our mission and the members [in] Guam. Their ability to lift, love, and serve will really help the units they attend prepare for the opening of the Yigo Temple. Sister Hicks and I are delighted to have them with us!"

Since March of 2020, missionaries around the world have championed unique pandemic conditions.  Some might ask why Latter-day Saints serve missions during extraordinary times.  When asked why these five senior missionary couples chose to serve, they said the following:

"[We] wanted to serve a mission together since the day we fell in love. We wanted to leave the distractions of the world and focus 100% of our time, talents, and energy to serving the Lord and His children for a season. We love the Lord, Jesus Christ, and have been blessed by living His gospel. We really want to share the gospel and our joy with others."

"We have planned and prepared to serve a mission our whole adult life. We believe it is a privilege to share the gospel of Jesus Christ and wanted an opportunity to serve a full-time mission."

"We were asked many times why we wanted to serve a mission during this pandemic.  Our response is the same today as it was then, 'We couldn't think of a better time to serve – the Lord needs us now.'"

For now, they will be in Guam until Japan reopens its borders, but they do not see it as just a place to wait.  As they did in their homes before coming to Guam, they are all engaged in the work of the Lord.  They, along with all missionaries around the world, know that you serve the Lord wherever you are – regardless of the circumstances.