When Scott and Penny Moir of Highland, Utah submitted their mission papers in late 2019, they had no idea it would take them a year and a half and they would be set apart three times before finally arriving at their assigned mission as Family History missionaries in the Micronesia Guam Mission. The Moirs were first set apart in late February 2020, and were part of the last Missionary Training Center group to go through before it closed because of the pandemic. They were supposed to fly to Guam on March 2, but got a call that morning telling them not to get on the flight, and another call the next day telling them they were released and thanking them for their service. At that point, the Moirs were disappointed, but also thought any opportunity to go on this mission was done and prepared themselves to go onto the next chapter of their lives.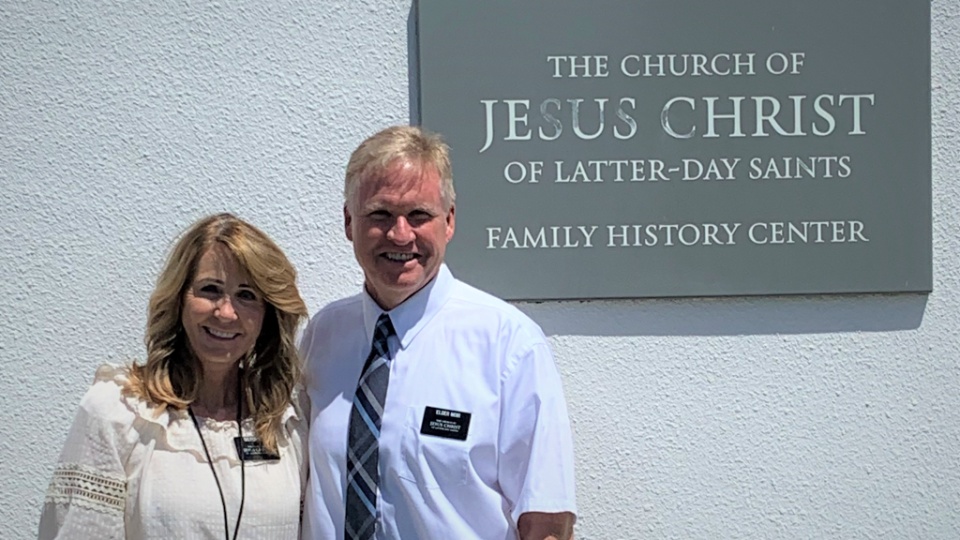 The Moirs were surprised to get another phone call in August asking if they would be willing to serve the same Family History mission remotely, until they could get to Guam in probably only a few months. They happily agreed and were set apart again. They kept busy doing an indexing project and a presentation for Rootstech Connect, but when those were finished, there was little hope of them being able to actually travel to Guam, and they were put on pause from their mission in January 2021. They again moved on with their lives, including work and building a house. They were extremely disappointed at first, but decided to sit down and list all the blessings they had received since they were first set apart. Elder Moir said, "That changed our whole outlook. We hadn't realized that we had been so blessed during this period. Our hearts were immediately lightened."
Just when Elder Moir was offered a prestigious job opportunity, they checked with the Church one more time, and this time everything changed, in part because they had just been vaccinated. Everything fell into place. Their house sold in less than a week, and they were set apart for the third time on May 23, finally arriving on Guam on May 26 to a hearty reception from the other senior missionaries on the island.
"We are where we are supposed to be," said Elder Moir. "We miss our kids and family but are so happy to finally be here. During our time serving our mission remotely, we developed such a love for Guam and Family History work that we'd never had before. We know the time will go fast and feel a sense of urgency. We feel incredibly blessed, and have learned an important lesson in trusting the Lord and in His timetable." As a result of this experience, the Moirs feel a tremendous responsibility to accomplish what the Lord has sent them here to do. They know the time will go fast.
They are at the Family History Center in the Barridada, Guam Stake Center every Thursday from 6:00-8:00 p.m. to help anyone who is interested in learning more about their ancestors and family history work. They are available to assist anyone in the Micronesia Guam region, whether members of the Church or not.
They note that Barrigada Guam Stake President Fredivic Nicerio has challenged all members of the stake to prepare two names to take to the temple when the Yigo Guam Temple is dedicated. The Moirs want to assist in this effort and believe this is one of the reasons they were called here. Another is to teach people to gather and capture their own family histories, through documents, stories and photographs.
"It's deeper than just finding names," said Elder Moir about gathering family history. "It's the spirit that comes with preparing for the temple. The temple has a whole different meaning when going for your own family. It's called family history but is really family salvation. People often say they miss the feel of the temples when they are closed, but family history work is temple work and you can get the same feelings. And you can have that spirit right in your own homes."