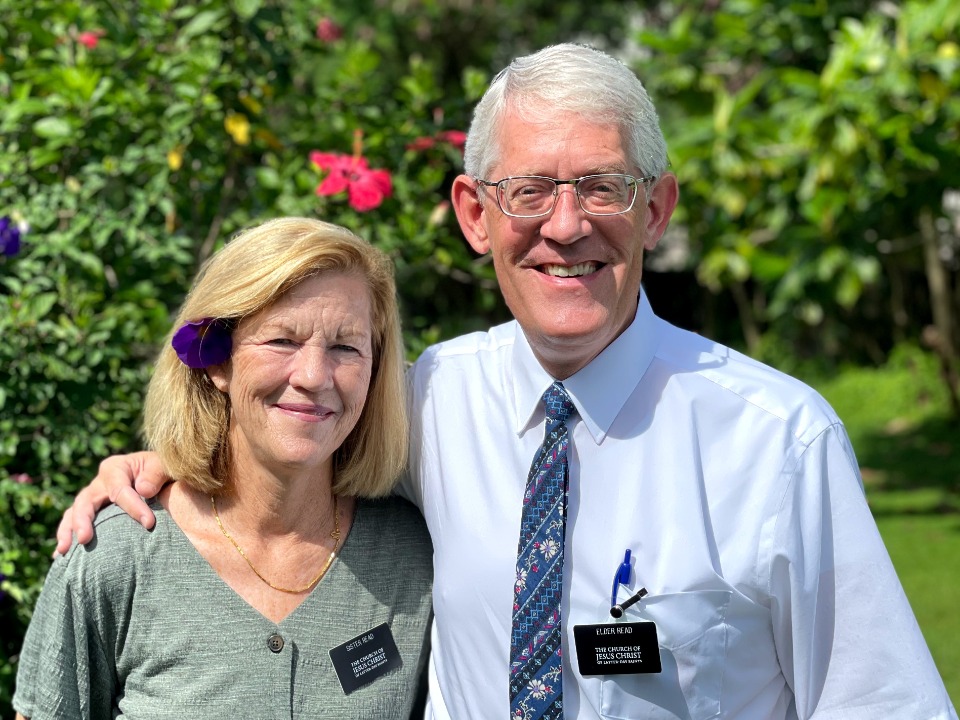 As the rising sun lightens the island of Guam, so too will our newest missionary couple, Elder and Sister Read, enlighten the minds of their Seminary and Institute students.
Elder Richard Read and Sister Kathleen Read are currently serving as the Micronesia Guam Mission Seminary & Institute Senior Missionary couple. They are here for 18 months and are from Cumming, Georgia, about 45 minutes north of Atlanta.
Elder Read served as a Bishop, High Councilor, and a Counselor in a Stake Presidency. Elder Read was born in North Carolina. Elder Read's parents lived in North Carolina for about 8 years in the same ward where Sis. Read's father served as Bishop after his retirement. This was the first of many connections with Sister Read. Elder Read received degrees in German and Business Administration, and he worked for over 30 years in the field of Human Resource Management.
Sister Read was born in Arizona where her father was stationed in the United States Air Force. Sister Read has served as a Relief Society and a Primary President. She also served for over 4 years as a Seminary Teacher. One of her favorite callings was serving together as Sunbeam Teachers in the Primary. Sister Read received degrees in Elementary Education and enjoys teaching.
At the age of four, Sister Read's father transferred to Anderson Air Force Base Gaum, which began her love of the islands of the Pacific While her parents are from North and South Carolina. Over the next 15+ years, her family moved many times, but they kept coming back to the Pacific. Sister Read lived on Guam for over 10 years…and she loved it
In their younger years, both Sister and Elder Read served as missionaries in Germany. After their missions, they happened to be in the same student ward at BYU – Provo. They started dating and were married a year later in the Atlanta Temple.
Over the years, they have enjoyed a mutual love of traveling, hiking, bird watching, snorkeling, watching Broadway shows, playing board games, and learning about different cultures and history. They also enjoyed serving as Ordinance Workers in the Atlanta Temple, where most recently they worked together in the Baptistry, with Sister Read as an Assistant Recorder.
The Reads express how they "feel very blessed to be able to serve here in Micronesia Guam together. We are especially thrilled to be here during the dedication of the Yigo Guam Temple."  Guam is blessed to have them included in the Micronesia Guam mission on the isles of the sea.