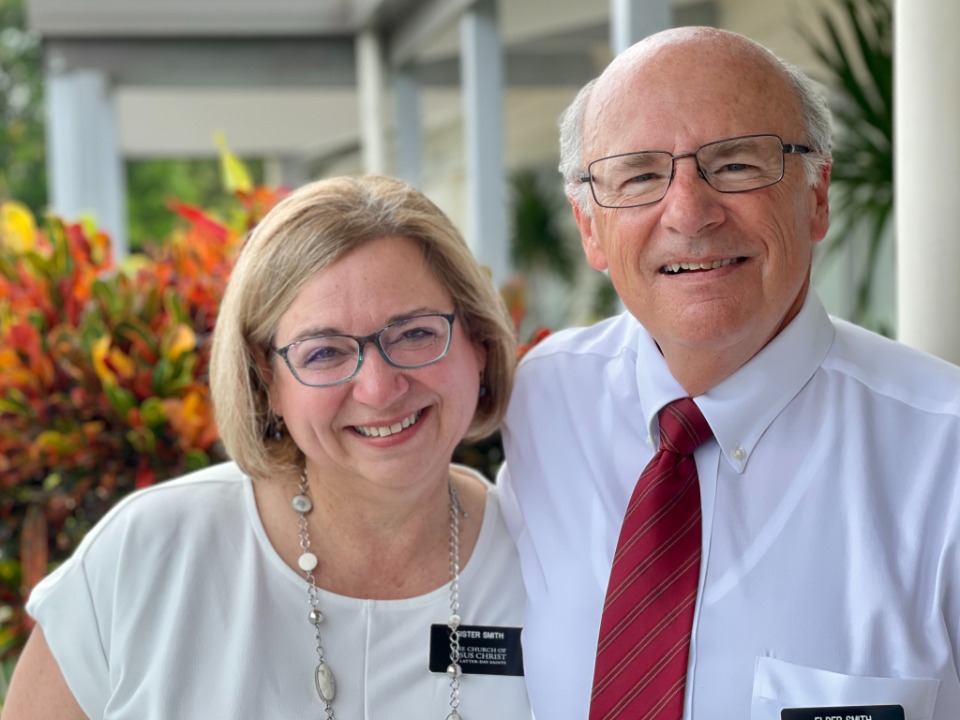 Just as the warm breezes come through Guam offering a bit of refreshment, senior missionary couples serving for The Church of Jesus Christ of Latter-day Saints have come to the island offering their variety of skills. Missionary work is so much more rewarding with a little sea breeze in your hair.
Guam welcomes Elder & Sister Smith who will serve in the Asia North area. They are a senior missionary couple called to the Office of General Counsel assigned to Tokyo, Japan. Sister Smith will be an assistant to her companion. She is also called by the area presidency to represent Leader and Member Support (LMS) for Guam. Her companion will give her support to this call as well. It's a pleasure to have them here temporarily until they transition to Tokyo after the border opens.
Before his current mission call, Elder Smith served twice as a Bishop. His other callings include counselor in four different bishoprics, Young Men's president, high councilman, Sunday School teacher, Scout Master involved with high adventuring in Colorado with his boys, as well as starting a Ward.
Sister Smith's previous callings include Pathway's teacher, Young Women's President, Institute teacher, self-reliance teacher, Cub Scout leader, and Sunday School teacher. She has taught early morning seminary for eleven years.
Elder Smith, who grew up in Santa Cruz, California, loves to be outdoors. He has close to forty years of experience in the legal field prior to coming on a mission. Sister Smith, who grew up in St Louis, Missouri, loves to teach, and loves music. Being very musical she brought her flute with her. This couple have been married for forty years and have four children.
Elder and Sister Smith started thinking about a mission about two years ago. They felt things kept stifling their efforts to receive a mission call and Missions were just not opening. Finally, the Lord opened the path for them to come to Guam. They feel the Asia North mission is what they needed to be called to and will enjoy serving on the island of Guam until they can go to Tokyo. The Lord works in mysterious ways.
They are loving being here. They feel it adds to their experiences and provides some diversity as they prepare to be in Japan.
"We are sincerely excited to be able to have a wonderful adventure serving the Lord in Guam and hopefully in Tokyo Japan.  We have been looking forward to serving a mission for decades and finally settled on serving in the Office of General Counsel" stated Elder Smith. We look forward to being blessed by their spirit and talents.