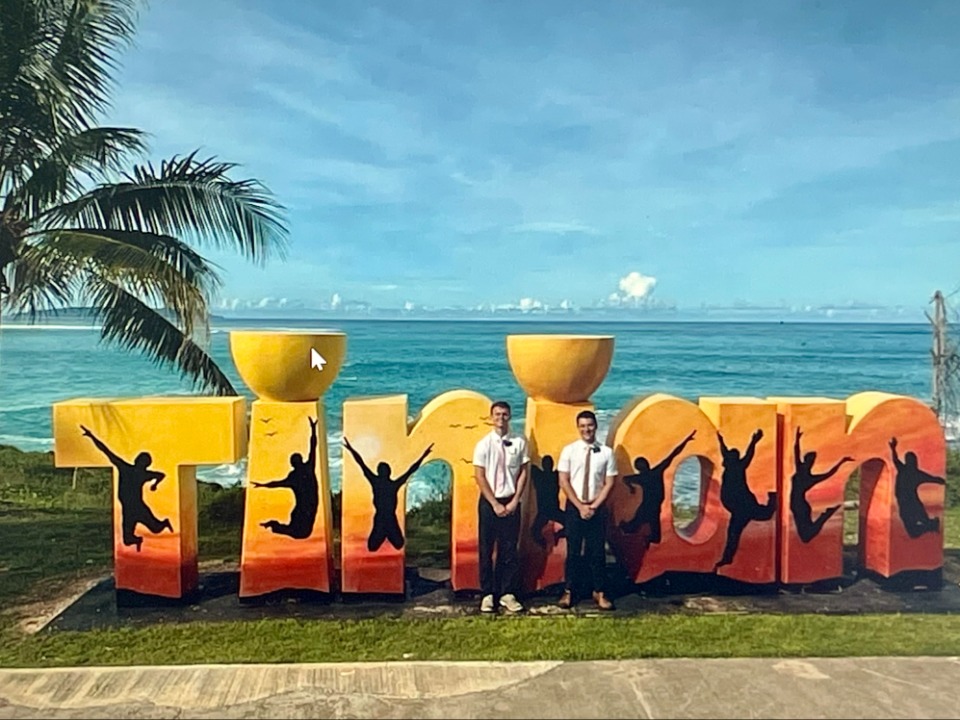 The Micronesia Guam Mission islands, adorned with palm trees and other tropical foliage, have been blessed with the presence of The Church of Jesus Christ of Latter-day Saints as it has spread throughout the world. Even the small island of Tinian has felt this presence until six years ago. As unexpected business closures, typhoons, and immigration have occurred, the membership of the church drastically declined. Tinian was closed to missionary work in 2015. Now the Church's Micronesia Guam Mission is about to reopen this island for preaching the gospel.
Tinian, a small island in the western Pacific Ocean about 100 miles north of Guam, is part of a chain of islands known as the Northern Mariana Islands. With an area of 394 square miles and having a population of around 3000, it was  inhabited by Chamorros. With European exploration, it became under Spanish rule, then German rule, followed by Japanese rule prior to World War II. With the U.S.-led Allied force invasion of the Northern Marianas in 1944, the island was converted into a major military base. It was on Tinian that the Enola Gay took off to end World War II. American servicemen were among the first Church members to visit the nearby island of Saipan, including L. Tom Perry, who later became a member of the Quorum of the Twelve Apostles. 
In the 1970s, the Northern Mariana Islands determined not to seek independence from the United States but rather to become a United States territory and is now a commonwealth of the United States. This Commonwealth of the Northern Mariana Islands (CNMI) forms a chain of 14 volcanic islands that came under the Micronesia Guam Mission when it was created in 1980. It became part of the Guam District with missionary work resuming in 1992 by Elder James Adamson and Elder Ryan C. McCune.  
Micronesia Guam's Mission President Hicks shares how "Sister Hicks and I felt prompted to investigate the possibility of restarting missionary work." They had made a trip to Tinian prior to the COVID-19 outbreak but were forced to delay opening the mission there due to quarantines.   
The thing with missions is that they have amazing Presidents who, with their companions, gain inspiration on how to keep their missions alive. This last September, with two elders in tow, President Hicks flew to the island of Tinian to "assess the possibility of resuming missionary work" he states. Having rented a car and with no specific plan, he said that  "Immediately upon pulling away from the airport, I felt prompted to drive to the beach area near the town on the southern end of the island." Shortly after parking, President  Hicks and Elders Haddock and Wilson found themselves unexpectedly answering questions from two young women that they had introduced themselves to at a pavilion near the beach. The next hour was spent talking with them of God, the Book of Mormon and other religious topics. He tells how "These two young women, in their early twenties, were very prepared to hear the teachings of Christ. It was an amazing miracle to find them ... so quickly." 
He then tells how when they drove just outside of town, they "met a woman … who had been planning to be baptized six years earlier just before the typhoon hit Tinian. Though somewhat skeptical now, she agreed to be taught again. This was another tender mercy."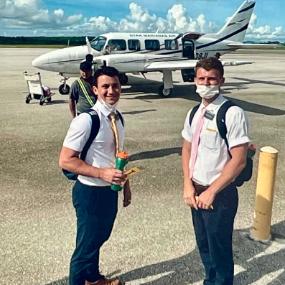 Seeing housing was unavailable, He said "I had a prompting to head to the beach." Just as they turned a corner, a small hotel came into view. After several inquiries and multiple contacts President Hicks said "We met Phil Long, who said he would be glad to rent us both his properties, but we had to act fast because there were two other parties interested. Again…small miracles." 
Protocol and regulations made it a bit tricky for just junior missionaries to live on the island. There are senior missionary couples here in Guam waiting to transition to their final mission country assignments who are available to help. After some problem-solving a plan was formed. President Hicks stated that "Beginning in mid-October, we will send two young missionaries and two senior missionaries to Tinian to start missionary work again on this island. The island is small, but there are people we can teach there. We felt very blessed and guided in our efforts. I believe there will be many miracles to come on Tinian!"