We welcome you to participate in the general conference of The Church of Jesus Christ of Latter-day Saints happening in Guam and the Republic of Palau, Saturday, April 9th and Sunday, April 10th. 
As seeds are planted in fertile fields, then watered under the sun till they reach the measure of their creation, may you make a serious effort to prepare yourselves to allow the Lord to plant within you the seeds that God would have you nourish.
This conference will be what you need in order to grow to reach the measure of your creation.
Let's prepare for the seeds of conference messages to take root in our hearts.
  Guam: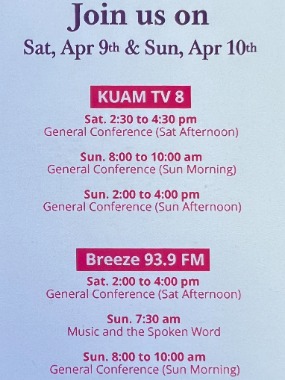 Republic of Palau:
Join us Saturday, Apr 9th & Sunday, Apr 10th
Radio 
88.5 & 89.5 FM
Sat. 10:00 am to 12:00 pm
            General Conference,  Saturday Morning Session
Sun. 9:30 am
            Music and the Spoken Word
Sun. 10:00 am to 12:00 pm
            General Conference, Sunday Morning Session