August 25, 2020 – The Church of Jesus Christ of Latter-day Saints is excited to announce the creation of a local Church Newsroom site dedicated specifically for people living in the Micronesia-Guam region, as well as other English-speaking audiences living in the Asia North Area. The purpose of the site is to uplift and inform church members by providing inspirational church stories both in the area and from around the world and provide uplifting information about the Church to local news outlets and non-member audiences.
Major content provided through Newsroom will be:
Asia North Area specific news and messages
Church headquarters news relevant to local audiences
News coverage of local events and activities
Inspiring stories from saints in Guam and Micronesia
Approved updates on the Yigo, Guam temple construction and dedication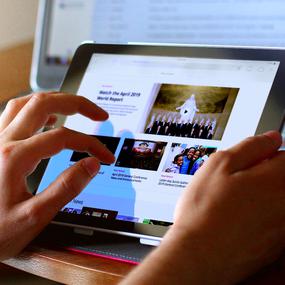 Newsroom will be a valuable addition to Church Facebook page for Guam and Micronesia. Together, they will serve their audience with more abundant information and content. Just as the new program introduced in 2019, Come, Follow Me, centered around home-based family instruction later blessed and filled the spiritual needs of members around the world under COVID-19 pandemic, the content on Newsroom will bring the Spirit of Christ's teachings into the Saints homes the same way as Come, Follow Me.
The Church continues to move forward in the islands. "Hearken, O ye people of my church, saith the voice of him who dwells on high, and whose eyes are upon all men; yea, verily I say: Hearken ye people from afar; and ye that are upon the islands of the sea, listen together." (Doctrine and Covenants 1:1) The Church is happy to bring forth this Newsroom site as a benefit to the people of the islands of the sea, that they may listen together and move forward as disciples of Christ.