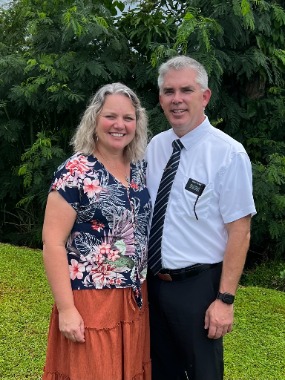 Robert and Jill Palmer are members of The Church of Jesus Christ of Latter-day Saints from Riverton, Utah. They are the parents of five children.  Two of their children are married and have blessed them with three grandchildren.  They have been called as Seminary and Institute missionaries in the Micronesia Guam Mission for 12 months.
Robert has worked in various positions in a manufacturing facility for twenty-one years.  He eventually became the factory manager.  He ran his own business on the side where he restored and built custom cars.  This grew to become a full-time job.  He enjoys cars, "off-roading", and hiking.  He has had Church callings in Primary, Young Men's, Scouting, Executive Secretary, and as a Sunday School Teacher. He served a mission for The Church of Jesus Christ of Latter-day Saints in Hawaii.
Jill ran her own preschool for many years.  She enjoys teaching and worked as a teacher's aide and a substitute teacher as well.  Through the BYU Pathways program and BYU-Idaho, she was able to earn an associate degree in family history and a bachelor's degree in business management in December 2021.  She worked for one year as a payroll specialist before their mission. She has served in Primary presidencies-both on a stake level and a ward level, Young Women's presidencies, Relief Society presidencies, and as a teacher in Primary, Relief Society, and Sunday School.
When Jill and Robert were married thirty years ago, they promised each other that when their children were grown, they would serve a mission together.  Their youngest child, a daughter, left for her mission to Pittsburgh, Pennsylvania in June 2023.  They decided that they could go on a mission now and be back home before their daughter returns from her mission.  Sister Palmer said: "We haven't had any experience teaching seminary or institute, so we were surprised when we received this call as S&I missionaries!  We both enjoy working with young people and we know that the Lord will support us in anything He needs us to do."