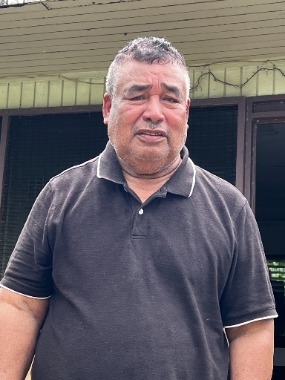 Happiness "Happy" Ichin is from Chuuk on the island of Weno.  His cousin, T.M. Conrad Mailo, was the first convert on the island in 1977.  One day he was working on his grandparents Taro farm when he heard a voice calling him.  He listened closely and finally recognized his cousin Mailo's voice.  Mailo told Happy that he had an important message for him.  He had brought the missionaries and wanted him to hear their message. He didn't want to talk with them in the muddy field.  He wanted to clean up before he visited with them. The missionaries wanted him to know that they were representatives of The Church of Jesus Christ of Latter-day Saints.  They set up an appointment with him for the next day.   They returned and taught Happy the gospel.  He had never heard the story about Jesus coming to the America's.  He had heard stories of a white man coming to the islands many years before, but he always thought it was some old tales from his ancestors.  They explained more to him about Jesus visiting the people after He was resurrected.  It was hard for him to believe.  They gave him a challenge to pray about the Book of Mormon and all the things they were teaching him. They didn't want him to just take their word for it but encouraged him to find out for himself if it was true. The missionaries explained that he could pray to know if it was true, and the spirit would testify to his heart.  He took their challenge and prayed about it.  He received an answer in his heart as they said, and he knew it was true.  He continued to learn more and was baptized.  In 1980, Happy became the first Chuukese (Trukese) missionary. He served on the other islands in Chuuk and he and his companion opened Kosrae for the gospel to be taught there.  He was able to teach and baptize some people who later worked in the legal system to help acquire property for the Church to build a chapel.  After he was baptized, he began trying to translate for the missionaries.  It was very hard because he didn't speak English very well.  He learned English from the missionaries.  He taught other missionaries Chuukese.  The first missionaries that came to the island had the gift of tongues and spoke fluent Chuukese.   
He has learned that you never give up on people.  When you first meet them, they may not want anything to do with the Church.  The second or third time they may be angry and tell you never to come back.  Happy said that he knows The Lord works on their hearts, "So," he explained, "You never give up! You just keep trying and trying.  We go by the Spirit." Sometimes the missionaries are driven off the property with sticks and they feel like striking back.  Happy would tell them not to do this.  It was important not to fight back and allow The Lord to soften their hearts.  We need to learn the culture and then learn the language.  
He has stayed in the Church because he said his belief is deep in his heart.  He knows that this is The Lord's Church.  When asked what he would like the world to know about him, he said: "I just want the world to know that this Church is true! I want them to learn for themselves. Listen to the missionaries and learn like I did.  Learn from your heart and let him in.  The plan of salvation is the most important thing to learn." He wants them to know that this Church believes in husband and wife.  He wants all of us to let His Light to keep shining.
Happy purchased one of the Church's old buildings and hopes to turn it into a vocational trade school.  He said that there is a need on Chuuk for the young people to learn the trades to be able to support their families.  He loves his people, his island, and the Lord.