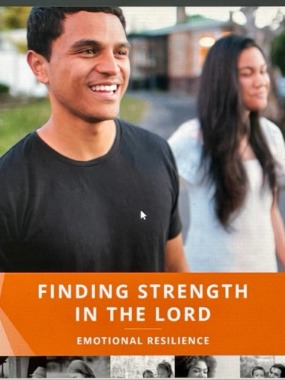 Challenges come in many forms. Loneliness, holidays approaching, or consequences of a pandemic find members in unique circumstances with added stressors. How can members strengthen their emotional resilience?
The Church of Jesus Christ of Latter-day Saints releases new manual "Finding Strength in the Lord: Emotional Resilience." This is an addition to the family of self-reliance manuals that are used in self-reliance courses.
Self-reliance is the ability to provide the necessities of life for ourselves and our family members. The Lord has declared "It is my purpose to provide for my saints" D&C 105:15. This revelation is a promise from the Lord that He will provide temporal blessings and open the door of self-reliance.
The manual teaches principles of faith, education, hard work, and trust in the Lord. Each chapter focuses on a topic, outlining principles with education to learn to manage that area of life. Embracing these principles, on the path toward greater self-reliance, will better enable members to receive the temporal blessings and strength promised by the Lord. With diligent study and application of the principles applied will come greater hope, peace, and progress. "And neither at any time hath any wrought miracles until after their faith; wherefore they first believed in the Son of God." Ether 12:18
Elder David A. Bednar explains that "Taking action is the exercise of faith. The children of Israel are carrying the ark of the covenant. They come to the River Jordan. The promise is they will cross over on dry land. When does the water part? When their feet are wet. They walk into the river – act. Power follows – the water parts. . .  True faith is focused in and on the Lord Jesus Christ and always leads to action."
Susana Sam, a church member in Guam, shares her experience of emotional resilience. She recounts "During a very tough and difficult time during my six cycles of cancer chemotherapy, I was able to experience emotional resilience. Since 2013-2020, I went back and forth from Guam to the Philippines. Because of my doctor trips, I had the opportunity to go to the Manila Temple, which is the closest temple to Micronesia where I live. Sometimes I traveled twice a year. I had an opportunity, that I wouldn't have had otherwise, to do endowments and ordinances that we do only in the temple. The moments when I entered the temple reinforced how I knew that the cancer I had was a blessing to me. I especially loved the blessings I received during the initiatory. During these temple visits I felt closer to my Heavenly Father and helped my emotional resilience."
"Faith in Jesus Christ propels us to do things we otherwise would not do. Faith that motivates us to action gives us more access to His power. We also increase the Savior's power in our lives when we make sacred covenants and keep those covenants with precision. Our covenants bind us to Him and give us godly power." Russell M. Nelson, "Drawing the power of Jesus Christ into Our Lives", Ensign May 2017.
You can access the manual Finding Strength in the Lord: Emotional Resilience as text or downloadable PDF.