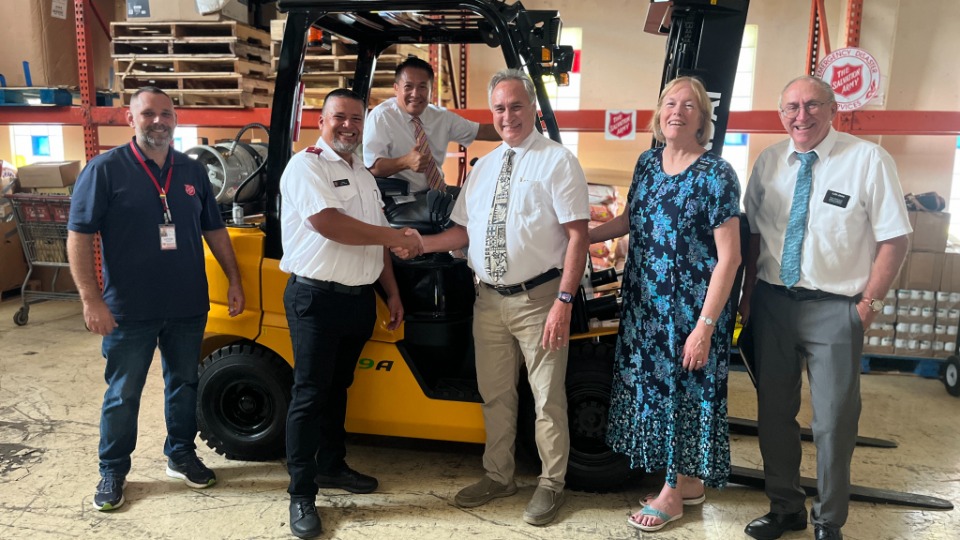 Because of typhoon Mawar, the demand for products and services provided by the Salvation Army was in high demand. The flow of products and services passes through their warehouse to be sorted and routed to those in need. In modern times, these tasks are aided by computer- based programming and communication capabilities are vital. After the typhoon the electrical power outage made the normal rate of business impossible for the Salvation Army.
The standby generator on hand proved to be unusable for the needed power. The Church of Jesus Christ of Latter-day Saints humanitarian department received a request from the Salvation Army for a new generator. The request was approved, and a new 35 KW generator was located and donated to the Guam Salvation Army.                                                                                                                              
The Church also received an additional request for a forklift to assist in their warehouse. The warehouse is equipped with pallet racks from floor to ceiling, but they had no way to lift the pallets off the floor. This request was also approved by the Church and a new Hyundai Forklift was located and donated to help the efficiency and capacity of their warehouse. Moving the supplies and stock from the floor effectively enlarged the storage capacity several times over.                                                                                 
The Church has partnered with the Salvation Army many times before because they have like minded goals and a great distribution network in place.