On December 5, 2020, ground was broken for the Okinawa Japan Temple, and hundreds of local Saints rejoiced. While Okinawa is home to many Japanese Church members, there is also a large presence of American Latter-day Saints on the island. For these foreigners, the forthcoming temple is a symbol of faith and hope in a land far from home.
Miracles and mercies are a common theme among these American Saints as they share how they came to live on this remote chain of the Ryukyu Islands in the East China Sea.
"Initially, I was terrified when I heard we were assigned to move to Okinawa," recalls Stephanie Halle of the Kadena Branch. As the mother of five young boys, Sister Halle wasn't sure that living overseas and far from her homeland in Washington State was an adventure she wanted. However, a tender mercy gave her the assurance she sought.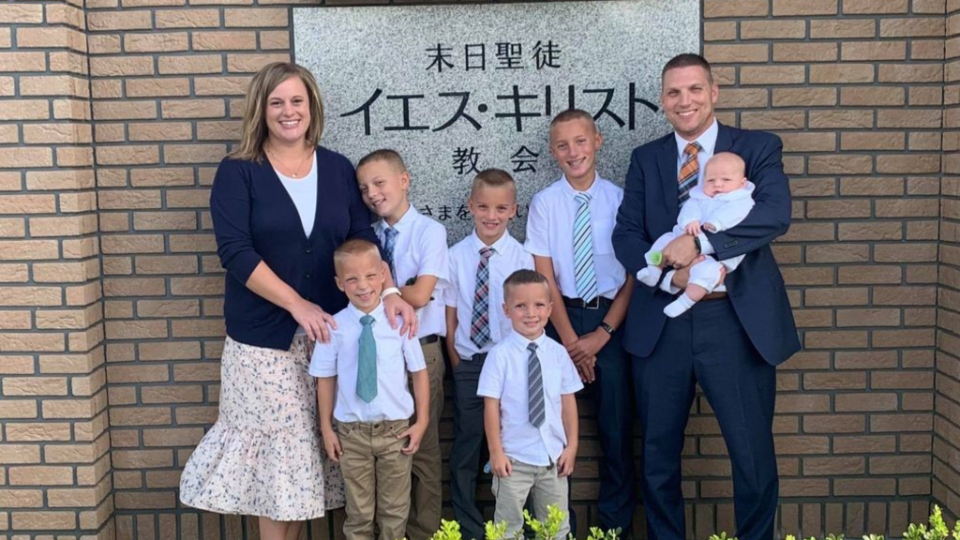 "We were on a drive as a family a few months before we moved, riding together in the car and listening to the April 2019 General Conference. Suddenly, President Nelson announced a temple would be built in Okinawa! I gasped and then cheered! I told my husband, Roger, 'This was the answer I needed and now I feel like we do in fact need to be in Okinawa.' It was in hearing that the temple would be built there that I finally felt excitement and peace in my heart as if Okinawa was my own home already."
Many American Saints on the island live and work near and on the many military bases there.
"I came to Okinawa through a series of miracles," remembers Sister Elizabeth Hope Blomquist of the Futenma Branch. A single sister who plays the flute in the US Marine corps III MEF band, she never initially intended to join the military.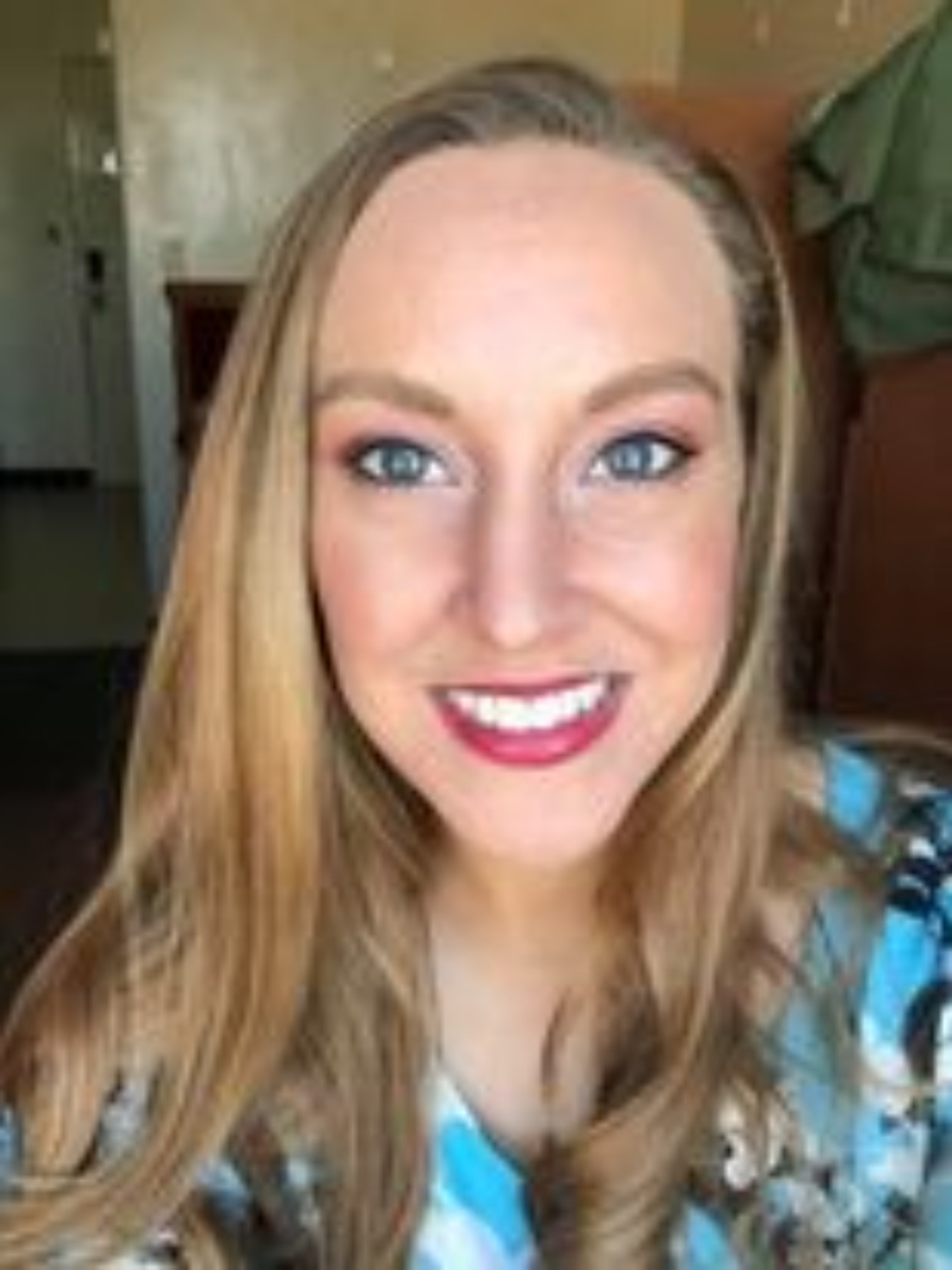 "A year ago I had not even considered the possibility of joining the military or moving overseas, but then I had the prompting to 'try something new.' One day, while searching the Internet, I saw that the military band needed a flautist. My initial thought was, 'That's really neat! Not for me, but for somebody else!' Though I intended to forget about it, the Lord had other plans for me. In fact, the very next time I went to work, my coworker (who was a member of the military) sparked a discussion about how feasible it would be to accept this opportunity! The more research I did, the more I felt it was right for me. Joining the military was completely contrary to what I thought my ability levels were and my career preferences. But as I committed and followed through the initial steps, I received a powerful confirmation that I was where I was supposed to be. It was like my whole life was leading me to be here at this time.
"In addition, the Lord secured me financially, before Covid-19 happened. As a single sister, this would have been a major concern for me, but because His plan was already in the works, as the pandemic unfolded I had no fear.
"And, imagine my excitement to learn that the Church was to build a temple here! Up to that point, I hadn't realized yet that my access to a temple would have been limited in Okinawa. Now, when this temple is built, I'll have everything I need to grow."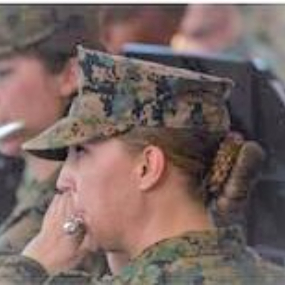 American soldiers—including Neal A. Maxwell and Boyd K. Packer—first came to Okinawa in 1945, near the end of World War II. After the war, the United States established permanent bases on the island, eventually bringing military families to live on Okinawa by assignment. In 1972, the prefecture was returned to Japan, but the US military still maintains over 30 installations and a peacetime presence here.
While the war was a time of great suffering for both nations; Church members today note that it was American soldiers who first introduced the Restored Gospel to local Okinawans, eventually leading to the establishment of branches, wards, a district, two stakes and even the Okinawa Mission from 1990-1996.
Today, Okinawa is part of the Japan Fukuoka Mission. Japanese Saints attend wards and branches in the Japan Okinawa Stake, while American Saints attend branches in the English-speaking Okinawa Military District. When ground was broken for the temple, Japanese and American saints rejoiced together.
Sister Jill Haggerty served in Okinawa as a missionary 17 years ago. Recently, she returned with her husband on his military assignment with the Navy.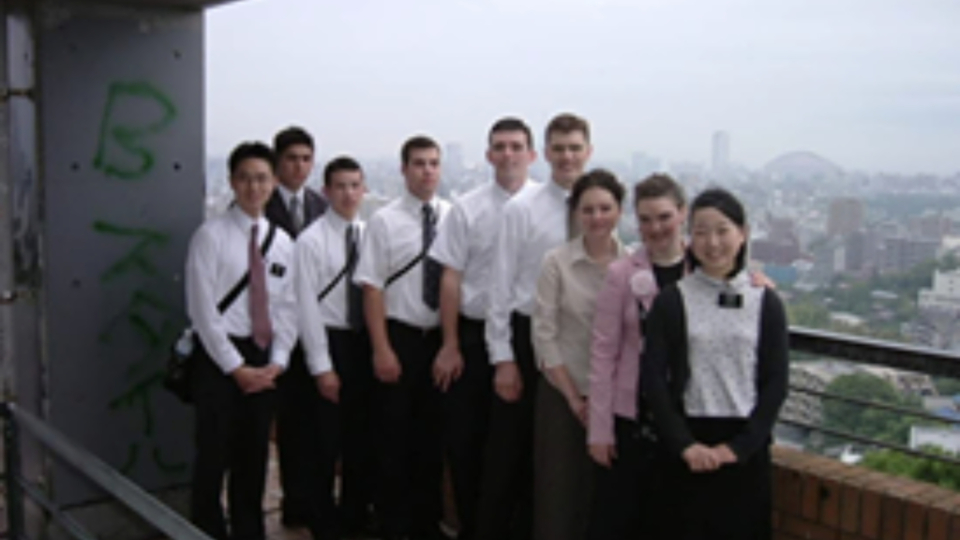 "In 2004, as a missionary in Okinawa, Japan, I fervently dreamed of and prayed for the Lord to bless the faithful members of Okinawa with a temple. I saw many miracles serving on Okinawa that testified to me of God's love for each of His children. When the temple was announced in 2019, tears came to my eyes and my heart was so full. God was answering the prayers of so many, and I was happy for the people of Okinawa.
"However, as a busy mom with four children in the United States, the island and its beautiful people seemed so far away. Then, one day I was astonished to find out that my husband had received military orders to Okinawa. The day before the temple groundbreaking ceremony, I returned to live in Okinawa, this time with my husband and four children. Our assigned branch meets in the building adjacent to the temple site. I am certain He stands at the helm, directs our lives, and has a bigger plan than we can currently see. He knows and loves deeply both you and me. 'Lord, here am I, send me.'"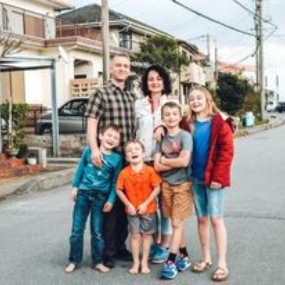 The Okinawa Military District currently includes four branches, three on the island of Okinawa and one in Sasebo, Japan on the northern island of Kyushu. Due to the transient nature of the military, most American families will only live in Okinawa for two or three years, but miracles and mercies are still a pattern in their lives.
Jeffree and Lori Shirley moved with their family to Okinawa in 2017. Sister Shirley shared, "When we first heard about the opportunity to work overseas, it felt like an unattainable dream. But we turned to Heavenly Father in prayer and asked how we could do God's will with the talents and opportunities we'd been given. That prayer changed everything.
"Over the course of the next few months, we continued to seek and receive personal revelation, first about selling our house, then applying for a job. Although we didn't know if it would work out the way we hoped, we knew that our loving Heavenly Parents were guiding us.
"I remember landing in Okinawa after over 24 hours of travel. My children were crying and clinging to me, and I was exhausted. I started to wonder why I thought I could do this! I didn't feel brave enough or strong enough. But I had faith enough. I knew God brought us to Japan and I knew God would watch over us here."
Like other members, the Shirleys were thrilled when the Okinawa Japan Temple was announced.
"We cried tears of joy when the temple was announced," she remembers. "We look forward to the blessings our family will receive as we serve in the temple. We've learned that God's plan for us is so much more wonderful than we could ever imagine for ourselves. The future really is as bright as our faith!"
After the events of September 11, 2001, Sister Jill Campbell felt insecure about the possibility of living overseas. However, in 2003, her husband, Paul, applied as a teacher for the U.S. Department of Defense Schools (DoDDS), which serves the children of United States military members in Europe and Asia.
  

Sister Campbell remembers, "Paul also applied at some stateside schools. When he was invited to interview twice with one school, I felt troubled. I didn't know why, as the position was appealing. I prayed about it, and learned that the feeling was from the Spirit, telling me this was not the right job for us. When Paul finished the second interview and told me he was offered the job, I shared my feelings with him. He prayed about it and received the same answer I'd received—that he should turn down the offer, which he did. It was an act of faith for both of us.

"However, four days later, Paul received a phone call regarding a job opening with DoDDS in Okinawa, Japan. Due to an unusual circumstance, the position had opened up shortly before the school year was to begin and his report date was just two weeks away! But the Lord had prepared us to be ready to move in a short period of time. Our passports arrived by overnight mail the day before our flight, and the next day, our little family of three was on its way across the world.

"As the years have come and gone, Paul and I have continued to feel that Okinawa was where we needed to be. We love the rich culture and the warm hospitality of the people of Okinawa. The military branches have felt like family. The one-year-old daughter whom we brought with us is now 18 years old. She, and the four additional children we had after moving to Okinawa, all call this island home."

The members of the Japan Okinawa Stake and the Okinawa Military District continue to work together to prepare for a temple on the island, which will bless the lives of both groups of Saints in the coming months and years.

"Really, there are no 'Japanese' Saints or 'American' Saints here," shared District President Mark Francis. "We are all just Saints, members of the Church who will be blessed and benefitted from the Okinawa Temple—a sacred House of the Lord which will be built on this sacred island."

Sister Shirley's words sum up what many Saints in Okinawa feel, "Every day since arriving, I am filled with gratitude that our loving Heavenly Parents led us to this beautiful island. We have blossomed in ways that we never imagined! We've grown as individuals, as a family, as member missionaries, as parents, and in our careers in ways that might not have been possible had we stayed where we were. We've felt so much love from the people here. We feel inspired by God's magnificent creations around us."

Sister Blomquist adds, "I didn't choose to live this life. I didn't choose to join the military, really. I merely chose to follow His plan for me. I followed the promptings I received, and chose to keep my sacred covenants by contributing all that I have been blessed with to the building up of His Kingdom. That's why I'm here, and that's what I'm here to do."