On May 23, 2021, President Fredivic Nicerio of the Barrigada Guam Stake gave the benediction at the commencement exercises of the University of Guam. In asking President Nicerio to give the benediction, University officials said it would be a great honor, and one that was long overdue, to have a representative of The Church of Jesus Christ of Latter-day Saints provide the benediction. They added that this was an important moment as the graduates will by then have turned their tassels and would be moving into their lives' new chapters.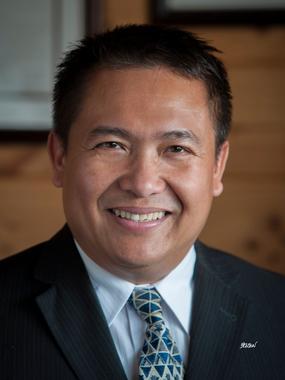 President Nicerio said for him, it was really an honor to represent the Church. While driving to the ceremony, President Nicerio said a prayer in his heart that "this opportunity would pave the way for the people of Guam to know our Church, soften their hearts and feel of His spirit, as we prepare for the coming of the Yigo Guam Temple." The commencement exercises were held outdoors, and at one point rain began to fall. President Nicerio again prayed that it would not continue so he could deliver his prayer. After that, the rain suddenly passed the stadium and stopped.
President Nicerio said, "During my prayer, I felt inspired not only to pass along the Christian teaching I have learned, but also to express my gratitude for the beautiful weather and for us to have the opportunity to gather and celebrate this momentous occasion in the lives of the graduates. I asked Heavenly Father to especially bless them during these unprecedented times, that they would make their way clear as they go out to the world looking for employment and making a difference in their lives and of others… to keep their hopes and dreams alive, to apply faith and confidence in every footstep. I also asked to bless them that they would exercise integrity, humility, and nobility of character in their sphere of influence. And, to help them to be honest, true, chaste, benevolent, virtuous, and in doing good to all men and live with greater moral rectitude.
"I also asked to invoke His blessing to the University of Guam, their alma mater, that the university will continue to educate the minds of its students with light and truth, so they will be nourished with every good word, that they will seek diligently and teach one another words of wisdom, to seek out the best books, to seek learning, even by study and also by faith."
People were touched by the prayer. The president of the university, the commencement speaker and several others expressed their gratitude for the prayer and said it was beautiful. President Nicerio said, "While driving back home, I felt good and remembered the words to a hymn, 'Doing good is a pleasure, a joy beyond measure, a blessing of duty and love.'"