From the inland desert of AZ to the tropical island of Guam, soft rain, and gentle breezes welcome Elder and Sister Green to The Church of Jesus Christ's Micronesia Guam Church Communication and Self Reliance Department. This new senior missionary couple anticipate being put to work.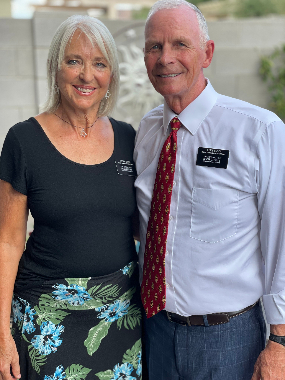 Elder Green, born in Thatcher Arizona, graduated from Arizona State University with a Bachelor of Science in Computer Information Systems. He then received his Master's in Aviation Management. He is also a retired officer of the United States Air Force. He then spent twenty years working as a Senior Programmer Analyst in Utah. Among many church callings his favorites were Scout Master and working in the bishopric.
Sister Green hails from San Francisco, CA. She attended Ricks College on a music scholarship. She attended BYU-Idaho to finish her Bachelor of Science in Outdoor Recreation Leadership. She worked as a Rehabilitation Technichian with the Juvenile Corrections Center in St. Anthony, Idaho. With a Minor in Mandarin Chinese, along with a six-month internship in China teaching English as a Second Language, she has acquired an affinity for the Asian Culture. With her many experiences she finds that her most loved role is being a mother.
Having a fondness of travel, cultures, hiking, sandy beaches, snorkeling and SCUBA diving the Greens have found their perfect match.
With a willingness to serve a mission for The Church of Jesus Christ of Latter-day Saints, they look forward with excitement to being an example of Christ and through love and charity bringing others to Him.