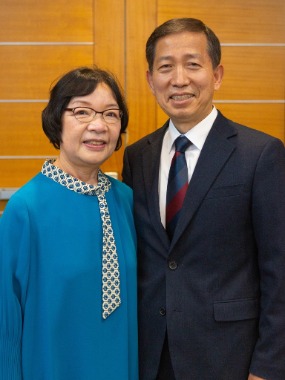 President Oh Hee Keun 오희근 Cheongna Ward, Seoul Korea West Stake has been called as the new president of the Seoul Korea Temple.  He will be the 13th temple president of the Seoul Korea Temple.  Sister Choi Myeong Sun최명순will serve beside her husband, as matron.  President Kim Young Nyun and President Jung Sam Gwon will continue serving as 1st counselor and 2nd counselor, respectively.  Sister Pak Eun Gyeong and Sister Kang Il Shim will serve as assistants to the matron.
President Oh Hee Keun, born 1957, has served in the Church as an Elders Quorum President, Ward Mission Leader, Stake High Councilor, Seoul Stake President (1997-2003), Seoul Korea Temple Recorder (2005-2017), Area Seventy (2009-2015), Asia North Area Communications Director (2017-2020) and, most recently, as an Area Communications Service Missionary.  President Oh worked in his professional career as a manager of two cosmetic companies.  He also worked for the Church as a Facility Manager and Human Resource Manager in the Korea Service Center. 
President Oh Hee Keun married Sister Choi Myeong Sun just after he was baptized.  Soon after their marriage, he baptized her.  Sister Choi Myeong Sun has served in a variety of Primary and Relief Society callings, including as a Ward Primary President, and as both a Ward and Stake Relief Society President.  President Oh and Sister Choi have a son, Min Hwan, and a daughter, Min Jeong, both of whom are married, and each of whom have two children.
President Oh Hee Keun was introduced to the Church while pondering life's questions during his service in the military.  He sincerely wanted to know, "Does God really exist?"  and since "so many churches teach different doctrines, I wanted to know which one was true."  One day a sergeant introduced him to his "good friend, that thinks he's found the truth."  President Oh went to find him.  "He had two scriptures in his locker, one the Bible and the other the Book of Mormon.  After talking for about an hour, I asked him, 'Do you believe you have found the truth?' He answered convincingly, 'Yes.'  After that, until the end of my two years of my military service, whenever I had time, I tried to study the gospel of Jesus Christ and put it into practice.  Immediately after being discharged, I found the local branch of the Church of Jesus Christ of Latter-day Saints and joined the Church."