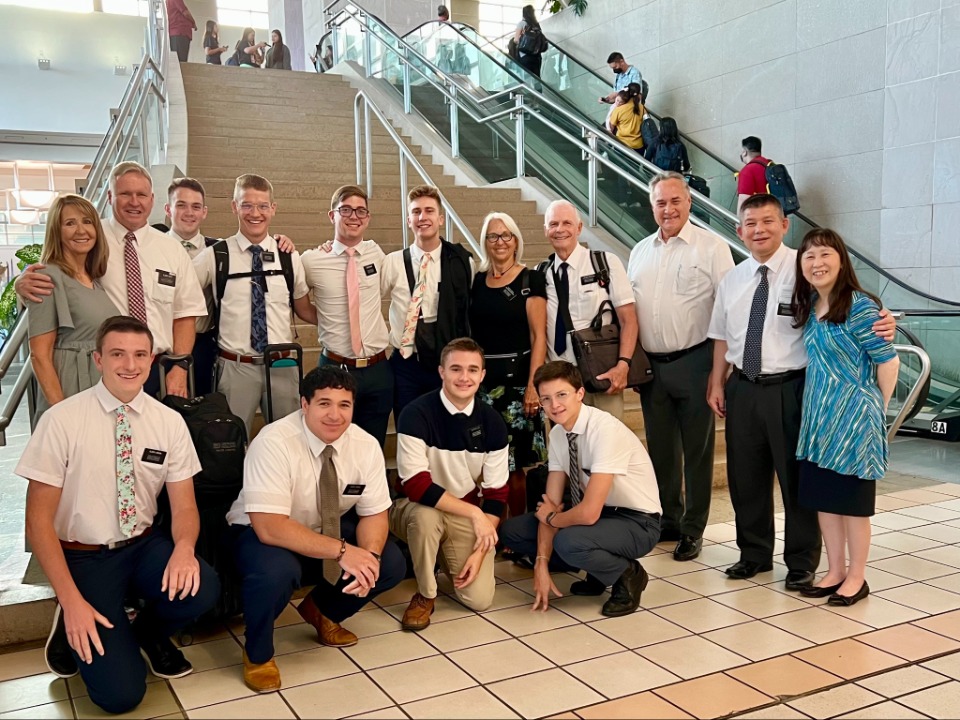 August 1st, flights resumed to the Federated States of Micronesia (FSM) after President David W. Panuelo of the FSM announced their borders would open for the islands of Kosrae, Pohnpei, Chuuk, and Yap after being closed for about two years.
The Micronesia Guam Mission of the Church of Jesus Christ of Latter-day Saints prepared early to catch a window for Mission President Okuda and his wife along with four sets of young missionaries to visit the church districts in the islands that have been isolated from missionaries and church leaders.
All but one senior couple traveled along with President Okuda who would visit Kosrae and Pohnpei. The other senior couple flew straight to Chuuk, relocating there for the remaining five months of their mission.
As Chuuk renovates their hospital, there is concern of the Corona Virus spreading and of their ability to manage it. With this consideration in mind, a two-week quarantine was put in place with the Chuuk government partnering with the Blue Lagoon Resort as the location.
The state of Chuuk also made a request to limit the number of flights into their state which was granted. This will cut back on the number of people that can visit.
President Okuda's plans were revised to exclude travel to Chuuk. When President and Sister Okuda travel back to Guam, one set of young missionaries will remain in Kosrae and anotherwill  remain in Pohnpei, giving missionary presence and member support in these two islands.
Elder and Sister Green, a senior missionary couple called as Communications/Humanitarian Specialists, now reside in Chuuk and will be allowed into the community August 16th. Working remotely to continue their communications responsibilities they are boots-on-the-ground, creating an opportunity to prepare the way for future missionaries to serve in the Namoneas Chuuk District. This church district consists of ten branches, four of which are on the main island of Weno. The rest are on various islands in the lagoon, only accessible by boat.
Members of the church in the FSM are excited to hear of missionaries returning to the islands. 
Sister Gacayan, the Chuuk District Presidents wife, expressed her feelings about the missionaries returning to the FSM saying, "I can't explain how great it is when those wonderful messengers of God will come to this vineyard and help this people in Chuuk." 
Brother Rockson Hebel, serving as Executive Secretary and Sunday School President in the Kitti Branch in the island of Pohnpei, shared his feelings saying, "I was a little hesitant that they were opening the borders ... but I feel blest to have the missionaries coming and look forward to having them here in the FSM. I just know there are more people here ready to hear the gospel. God is good and he does things in his own time. I'm so stoked to have Elder Dean and Elder Durant here in Pohnpei."
Even amidst  restrictions, we see miracles as the Lord's hand prepares the way for missionaries to return again to the FSM.