What can be learned from going through Super Typhoon Mawar?  Resilience.  Strength.  Kindness.  Patience. Love. Hope. Gratitude.  Appreciation. Perseverance.  These are a few words, out of many, that can describe the people, trees, and plants on Guam.
Many people here have endured multiple typhoons, but through each one, they've continued to remain on the island they call home.  (A kind older lady said that this was her 15th typhoon!  In 1962, she was six years old when Typhoon Karen hit the island and destroyed her house.) They may get knocked down, but they don't stay there.  Homes may be damaged or even destroyed, but they are rebuilt.  Trees and plants are stripped of their bark and leaves, but they rebound quickly.  Most of the island was without power and water for weeks, but they didn't give up hope. Mawar brought people out of their homes and internet world onto their porches.  Sister Susan Hill, a senior missionary, said that she has been here for 18 months.  Because of the storm, she saw her neighbors and became dear friends.  Sister AJ Harrison, a junior missionary, said that she misses seeing people out talking and serving each other.  "Now everyone is back inside on their devices!"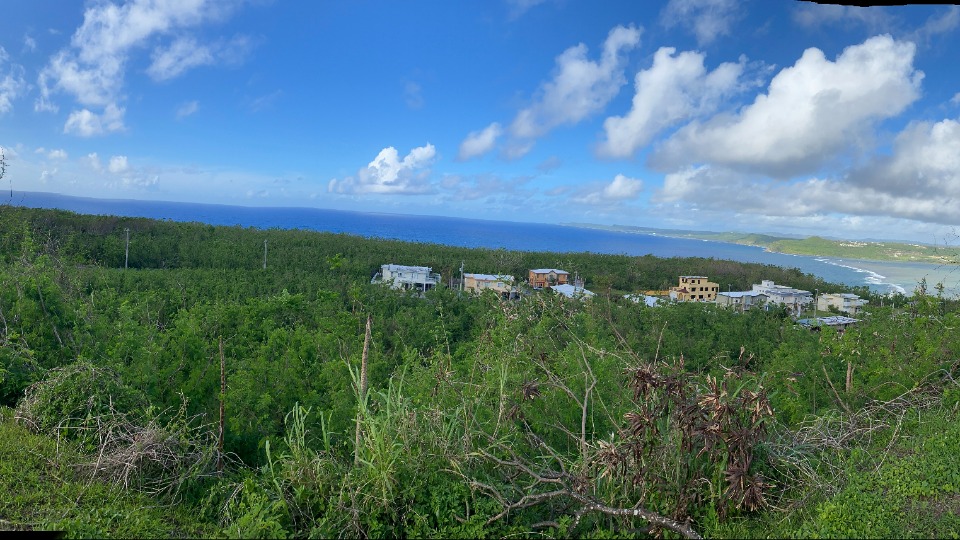 Nearly 1 month ago, Guam looked like a war zone!  Now you can see new growth, new life coming back into the plants, trees, and foliage.  Power and water are being restored to homes along with the internet.  The high winds ceased to blow, and the heavy rains stopped.  People are still clearing debris from their yards and homes, and service is being offered everywhere. The chapels are beginning to open once more and the Yigo Guam temple is scheduled to open toward the end of July.  Life is getting back to 'normal'.   
Simple everyday things were appreciated again after the storm.  Missionaries went to work cleaning the courtyard of their apartment complex while some of the residents watched from windows or jumped in to help as well.  Licorice was thrown from a window because that's what they could do to help.  One neighbor offered their rechargeable fan for a while to help bring cooling relief to their neighbors who were not used to the island heat and humidity.  A candle burns bright during a dark night after the power went out only to be shared with a neighbor because they didn't have any source of light.  Bottles of water were offered to neighbors whose supply was running low.  Buckets were offered to get water for flushing the toilet from the flood waters in the parking lot.  Simple gestures of kindness towards each other turned strangers into friends.
It is said that the word 'remember' is listed in the scriptures over 350 times!   May we remember and never forget all that Mawar has taught us.  May we be renewed in our efforts to be more resilient, kind, patient, loving, hopeful, and having appreciation and gratitude for the simple things in life.  A candle, a flashlight, batteries, running water, flushing toilets, electricity, fuel, sharing with our neighbors, serving together and the list goes on.  There will be more storms.  Will we be ready?
Elder Joseph Wirthlin said "…in spite of discouragement and adversity, those who are happiest seem to have a way of learning from difficult times, becoming stronger, wiser, and happier as a result."