What led me to participate in temple and family history work?  
                                                                                                                                       - Anna Afoacnupu 
One evening I was sitting on my bed. I started to reminisce about all the great memories I had with my grandfather. It brought tears to my eyes, so I went through my photo gallery on my phone to try and look for a picture of him. It came as a shock that I did not have one. I quickly hopped on Google and typed his name and two searches were found.
One from the memorial site he is buried and one from Family Search. Curiously, I selected FamilySearch, and it pulled up the app. I logged in just to sadly discover that little to no work was done for him and his family. It came naturally to me to discover and connect his genealogy. I made a great contribution to my family through an app that was accessible from the phone. With the Lord's guidance, I knew there was work to be done in the Temple. At the beginning of March, I was able to go through the Yigo Guam temple for my own endowment. The spirit of the Lord was present, and I came to realize the importance of temple work and the vital part family Genealogy plays. I testify that we all have a role to play in the Lord's plan. Building his kingdom here and on the other side. I am so grateful for an accessible Temple here in Guam. It made it possible for me to enjoy the temple's blessings for me and my family. I know there is still a lot of work to do. The Lord's blessings are for all of us to receive. I know Heavenly Father loves each of us. I say these things in the name of Jesus Christ Amen. 
====================== 
How did the temple and family history work change my life? 
                                                                                                                                                   - Flahau 
Through FamilySearch, youth and parents research their family history to find relatives who have not been baptized on this earth. The Flahaut family from the Yigo Ward had the opportunity to attend one of these special family priority times. Hagen baptized his brother, Jensen, and sister, Paislee   Family Priority Time is taking the opportunity to make your family on both sides of the veil a priority.  
Hagen, Jensen, and sister Paislee Flahaut are willing to give up or delay other outside activities to go to the temple.  They love being in the temple and are excited to go.  They had a youth activity where the youth were taught how to navigate the Family Tree app and add pictures and memories into Family Search.  Finding family names to take to the temple is easier than it used to be. Adding some pictures of their ancestors and learning about them through the memories helps to make it more personal. 
====================== 
How did the temple and family history work change my life? 
                                                                                                                                                   -Liz Gittens 
The windows of heaven were opened when we got to the Guam temple. Family history is so important. I was in the hospital and my family on the other side said "You need to get better so you can do my work." 
My goal last year was to do 100 names. I was able to do 160. I am grateful to my Heavenly Father for giving me the strength to accomplish it.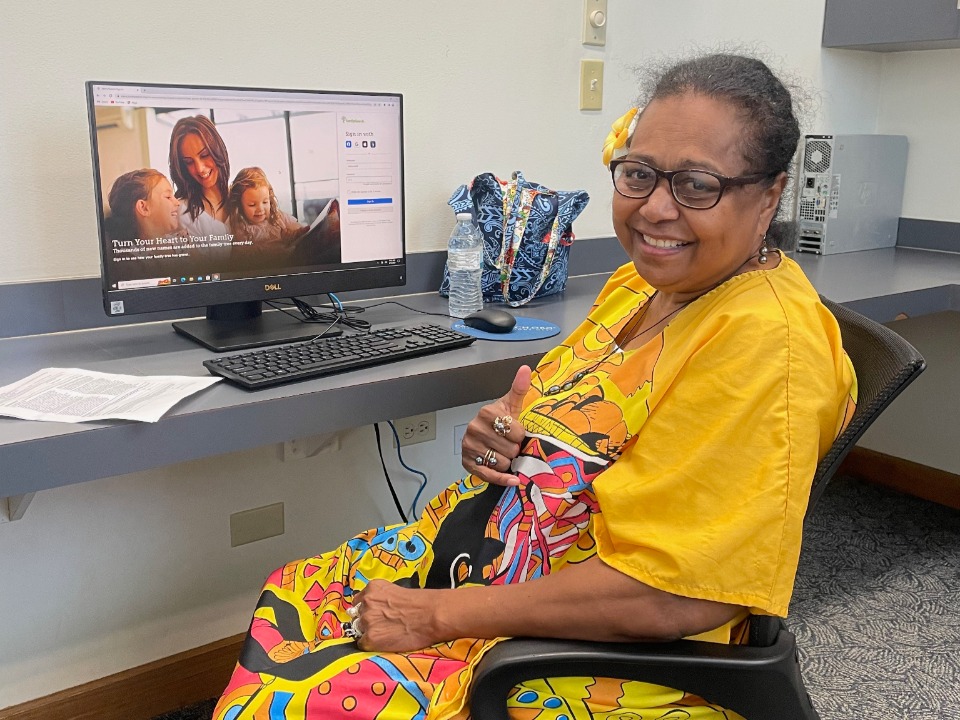 ==================== 
How did the temple and family history work change my life? 
                                                                                                                                           -Joanne Delgado 
 Hafa Adai I'm sister Joanne Delgado from Guam. I'm a member of The Church of Jesus Christ of latter-day saints  of Guam. When I was first told about family history and how it would benefit me and my families and generations to come I was so excited so I downloaded the Family Search app and started to work on my family tree as the days went by I felt the spirit of my ancestors. The amazing thing that happened was that I found out a lot of had been done. Then to find out that we were able to take our family names to the temple for those that has not been baptized and confirmed or received their endowment and other temple ordinances. I know these things to be true and I testify of these things in the name of our lord and savior Jesus Christ, Amen. 
==================== 
How did the temple and family history work change my life? 
                                                                                                                                          -Jasel Delgado 
Håfa Adai my name is Jasel Delgado, I am a member of the church of Jesus Christ of Latter-day Saints from Guam. I'd like to take this opportunity to express my love and gratitude for Family History work through Family Search. Since I became a member in September 2021, I kept hearing about "Temple work for our ancestors" and "genealogy".
Shortly after I was baptized and confirmed I was able to create my Family Search account. Then I started getting to work, I noticed once I inputted a few of my deceased loved ones I was able to be connected to even more of my ancestors. I found it so fascinating that I was able to find my ancestors and felt even more connected to them then ever before. It's such a blessing to know that I can be connected to my loved ones on the other side of the veil and do Temple work for them. My first experience in the Temple was amazing. I was able to be baptized on behalf of my Grandmother who I called Nåna who had passed away in September 2021. After I was immersed and pulled back up in the baptismal font of the Yigo Guam Temple, I felt the spirit so strong. I knew deep in my heart that my Nåna was just waiting for me to do her work and has accepted the gospel. I could feel her presence there with me the whole time. I'm forever grateful to be part of the gathering of Israel and to be able to do work for people who have left this earth without knowledge of the restored gospel. I know all of these things to be true through the power of the Holy Ghost who testifies of the truth. This is my sincere testimony in the name of our savior and redeemer Jesus Christ, Amen.