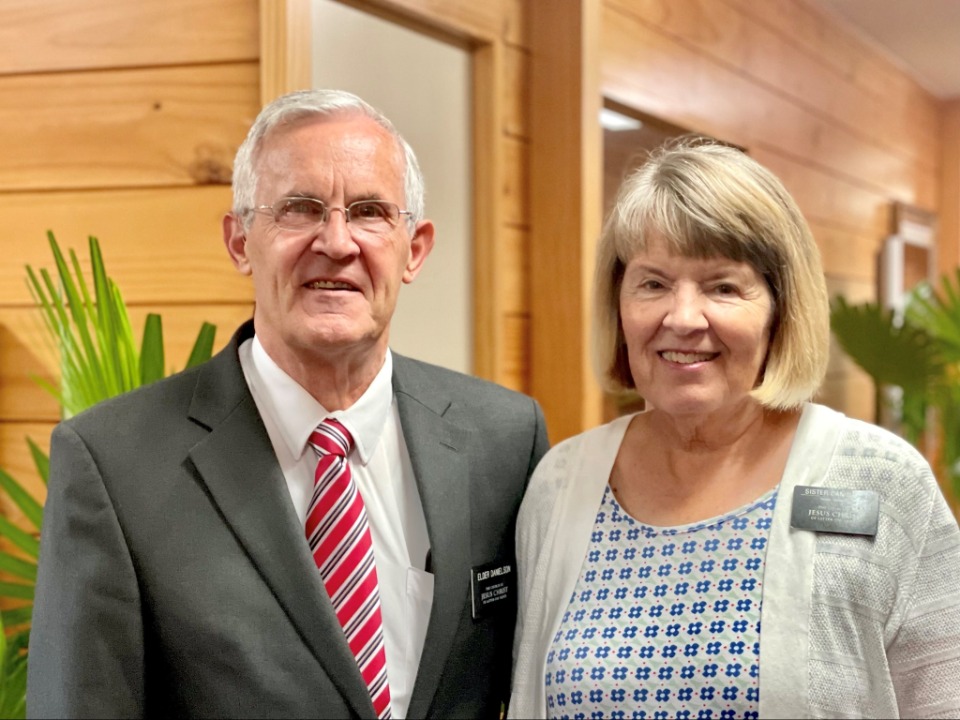 As we count the many blessings that have come to Guam, we see the Lord's hand in the arrival of our newest missionary couple Elder and Sister Danielson.
Elder Darrel Keith Danielson, with his companion Linda Jean Stay Danielson, have received their mission call as Yigo Guam Temple Recorder in the Micronesia Guam Mission. 
Elder Danielson served as stake president, bishop, mission presidency counselor, high councilor, and senior missionary. He is a retired financial adviser for FedEx.  He was born in Minneapolis, Minnesota, to Carl Alfred and Wenonah Claire Danielson.
President Danielson's wife, Linda, has served as stake Young Women president, stake Relief Society presidency counselor, senior missionary, and temple ordinance worker. She was born in Pasadena, California, to Jesse Eldred and Helen Lela Valantine Stay.
Elder Danielson served a full-time mission to the, then called, Great Canadian Mission. He then attended BYU-Provo where he met the love of his life.
Sister Danielson's father was an Air Force Pilot who had worked out of Guam for a time. Besides relocating many times around the US, she also lived with her family in Spain for three years. Being quite active in student government in high school, she enjoyed her secretary job at the Pentagon while her father was stationed there.
Elder and Sister Danielson were married in the Salt Lake Temple. Elder Danielson's work took him many places around the world as a finance officer with multiple airlines as well as raising eight children.
They have served a mission to Guatemala where they learned some Spanish. For Sister Danielson, she was able to build on the basic Spanish language she had gained while living in Spain. Their hobbies are their family and serving the Lord. They love that they are setting an example to their children, grandchildren, and great grandchildren by serving missions.
After submitting their paperwork for a full-time temple mission, one zoom call later they were asked to serve a full-time mission as "temple start-up missionaries".  Starting out to be four to six months at each new start-up temple, the calling evolved to Elder & Sister Danielson being called as the Micronesia Guam Yigo Temple Recorder, a 23-month mission here in Guam.
Sister Danielson expresses how she is "overexcited!" to be here with their new mission call and can't wait to be serving in the temple. She loves being in Guam, where her father served as an Air Force bomber pilot.
Elder Danielson concludes with "It is such a blessing to the islands to have a temple close by".
Their vast experience with temple work will be a great blessing to the temple and the island people it serves. As temple service is recorded, Guam will continue to count its blessings.