The beautiful island of Guam, with its tropical foliage and moderate weather, attracts a diversity of people. What better place to hold Guam's first ever 'For the Strength of Youth' conference, 2022, June 20 – 25th, hosted by The Church of Jesus Christ of Latter-day Saints.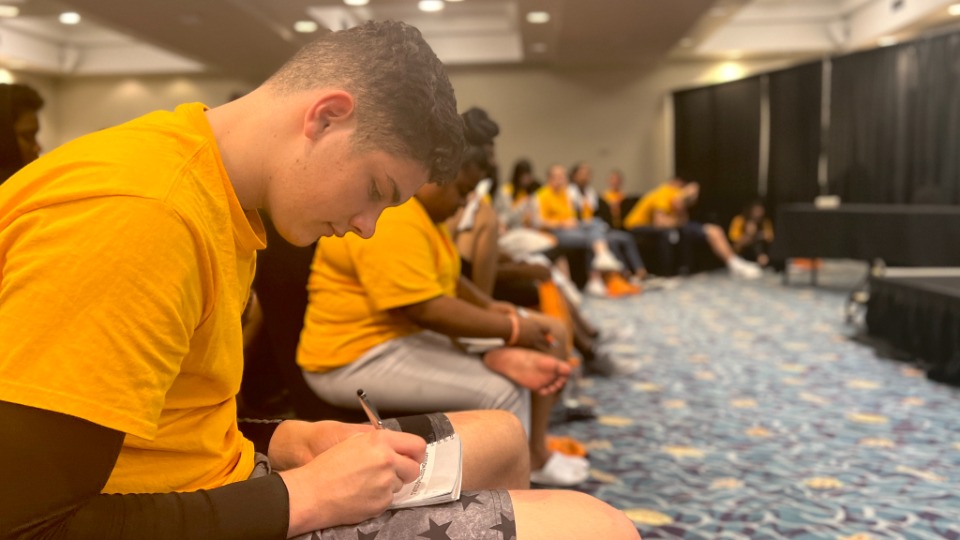 Young adult counselors and one-hundred youth ages fourteen to eighteen came from Guam, Saipan, Palau, Yap, and Okinawa to gather at the Pacific Islands Club (PIC) where the conference was held under the direction of Barrigada Guam Stake President Fredivic Nicerio and his wife Stephanie.
Asia North Area President Elder Takashi Wada with his wife Naomi, along with his second counselor John A. McCune with his wife Debra, flew in from Tokyo Japan to speak at the conference. Elder William H.K. Davis, chairman on the FSY English Speaking Coordinating Council living in Guam with his wife Wanda, also spoke at the conference.
"Trust in the Lord" as stated in Proverbs 3:5-6 was the theme of the conference. The youth, along with their counselors and leaders, participated in five days of devotionals, food buffets, classes, daily scripture reading, and wholesome recreational activities in an engaging, fun, and positive environment.
Leaders were donned in flight-captains' hats as President and Sister Nicerio spoke of being on an airline flight where you need to secure your own oxygen mask before helping others with theirs. Five groups of youth each decorated individual flags with their group's name as well as creating a group chant.
Elder and Sister McCune spoke of challenges in their life, the peace the Spirit brings, and when all we have left from our life experiences is the hope in Jesus Christ, through making and keeping sacred covenants, we can put our trust in Him,
Elder Davis spoke of the importance of listening to the spirit and how it's subtle promptings for us to act may be the answer to someone else's prayer.
President and Sister Wada spoke of how the small choices we make lead our course for eternity, how people can act and  are acted upon, situations may not change but we can change, you learn secular things that prepare you for your mortal experience, what your promised land looks like, soul search and find yourself in the scriptures, and that gathering Israel is the most important thing you can do. On the way through life find your destination to eternal life through studying the scriptures.
President and Sister Nicerio told how their lives did not follow their initial goals and did not end up as they had planned, but by living the principles of the gospel and trusting in the Lord, they have a wonderful and happy life.
A Water Olympics and team building activity was put on by PIC with poolside burgers. The youth shared their musical and variety-show talents and took a walk to Ypao Beach for a photo session.
Transported by bus to the new Yigo Guam Temple, the group performed proxy baptisms, some for their own family members who had passed on.
Ching Batimana was the DJ for the Friday night dance, which brought the conference to a conclusion. Saturday, the youth checked out and were driven home by parents or shuttled by leaders to the airport to catch their respective flights home.
To summarize, make and keep your own sacred covenants, listen to the spirit, and although your life path doesn't follow your plans, trust in the Lord that He can and will make your life more fulfilling than you ever could on your own.
The youth, their counselors, and leaders, developed new and lasting friendships, returning home enriched and more committed to trust in Jesus Christ.