Moses taught God's word "… shall drop as the rain, my speech shall distill as the dew. …" (Deuteronomy 32:2) Every six months The Church of Jesus Christ of Latter-day Saints' General Conference broadcast expands its reach further to remote locations, giving opportunity for more people to "Hear Him." From the continent of Asia to the pacific islands, members and friends in the Asia North area heard the words of the Prophet, Apostles, and other Church leaders during the 191st semiannual General Conference broadcast October 2021, reaching to the isles of the sea in a variety of ways. The Church continues to find creative ways to share hope, comfort, and counsel through technology and social media. Stepping forward from having prerecorded music the past two years, The Tabernacle Choir at Temple Square, along with a multicultural choir representing 39 countries, performed live with reduced numbers to comply with pandemic protocols. Unlike previous conferences, the Saturday evening session, which rotated between Priesthood and Relief Society, was held as a general session, as the Church announced last July. 
Throughout the Asia North Area, General Conference was being watched and heard in a variety of ways:  
Families gathered in their homes near their televisions, to hear the Prophet and other church leaders. Babies and toddlers were held by parents or siblings, families and couples cuddled on couches, children participated in other quiet activities such as coloring sitting or lying on the floor while feeling the loving bonds of their family. Others met in their chapels and stake centers where Conference was being streamed. Members, friends, and missionary companionships, watched on their cellphones, tablet PCs and laptops via the Church's website and YouTube channels in their respective languages.  
In Guam and the islands of Micronesia: 
In Guam and Palau, building friendly relations with media-broadcasting stations has proven helpful to expand the Conference coverage in more remote areas. Be it in a home, in a car, or outside under shade trees, His words were heard by many countries.  
Missionaries serving in Palau gathered at their chapel to watch Conference together. Sister Emma Heiden, a missionary serving in Palau said that "Watching General Conference with all the missionaries will be something I will cherish forever! … I learned so much and I loved watching it with all the missionaries!!" Sister Aubrey Duenas, another missionary serving in Palau, expressed "General Conference has strengthened my testimony and faith in my Savior. I felt like I was listening to Jesus Christ himself speak to me as I listened to the living prophets and apostles!"  
In Korea: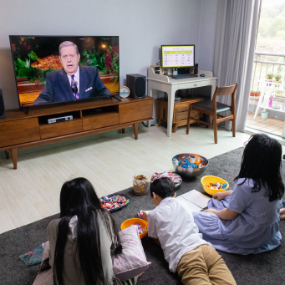 Young families in Korea turned their hearts to General Conference with creative ideas. Brother Chandae Jeon in Korea shared what his family did, "As I thought about how I could help my children enjoy general conference, I prepared snacks. I made a list of words for each meeting and let the children take a snack every time a speaker said any of the words on that list. The children were more focused on listening and after each session was over, they looked forward to the next session starting. I also invited my younger brother to lunch and watched the Sunday afternoon session together."  
Even when their surroundings are not perfect, Sister Sun-li Lee's family in Korea could not miss the inspiring counsel for their family. They said, "We were in the process of moving to a new home and did not have everything set up but took time to watch Conference together as a family with what little we had. It was a nice rest from the move." 
Sister Joy Beale, a Single Adult from the Seoul English Branch shared, from Elder Clark G. Gilbert's talk, "Jesus Christ sees our potential; we can be more in Jesus Christ. The Lord will help us more than we can help ourselves. 'We have all drunk from wells we did not dig and warmed ourselves by fires we did not build.' Faith in Jesus Christ and the small decisions we make are important."  
In Mongolia: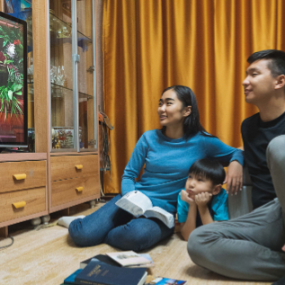 Families near the mountains and grassy steppes of Mongolia were also able to "Hear Him" and receive inspired answers to their life questions. Sister GEGEENNARAN said, "I've been struggling to have
spiritual strength since I returned from my mission. Today I got my answer from Elder Dieter F. Uchtdorf's talk at October 2021 General Conference. To be spiritually pure and strong, I need to practice "daily restoration"- small and simple refreshing steps forward, like the rolling water of the little stream. I know because of Christ's atonement; I can always start a new beginning."  
Sister ANARTAS invited her friend to join her family to watch conference. She expressed, "Watching General Conference together with my friend was inspiring. Comments from my friends and my thoughts made this visit more meaningful. I learned that we need to find a special time to stay with the Lord and learn from these experiences."  
In Japan: 
In Japan's land of the rising sun, the teachings received through General Conference also had meaningful impacts on the Church members and their friends.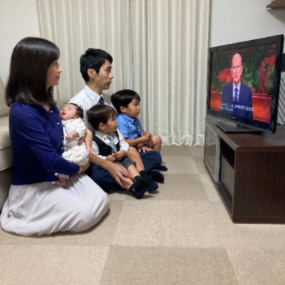 Brother Yuichiro Watanabe from Japan Kohoku Ward shared his feelings, "The leaders in General Conference gave us uplifting messages. Through them, I was able to gain a stronger testimony that the Church is true."  
Brother Kazuto Yonezawa from Japan Fukuoka Ward said, "By listening to General Conference, we can receive personal revelations to guide us during times of uncertainty. We do not know what the world will be like in ten or twenty years, but inspired leaders teach us why we are here, where we came from, who we should strive to be, what we should strive to accomplish in this life, and in whom we should depend on. If we do this, we will be able to receive peace in our hearts despite our hardships."  
The gathering of individuals, families and friends marked the historic viewing of the October 2021 general conference of The Church of Jesus Christ of Latter-day Saints broadcast throughout the world, including the Asia North Area. President Russell M. Nelson concluded the conference by announcing thirteen new temple locations and asking listeners to make time for the Lord by doing those things to allow the companionship of the Holy Ghost, focusing on Jesus Christ, and attending and serving in the temple. Through this Conference broadcast, saints in Asia North Area have been truly blessed to "Hear Him."